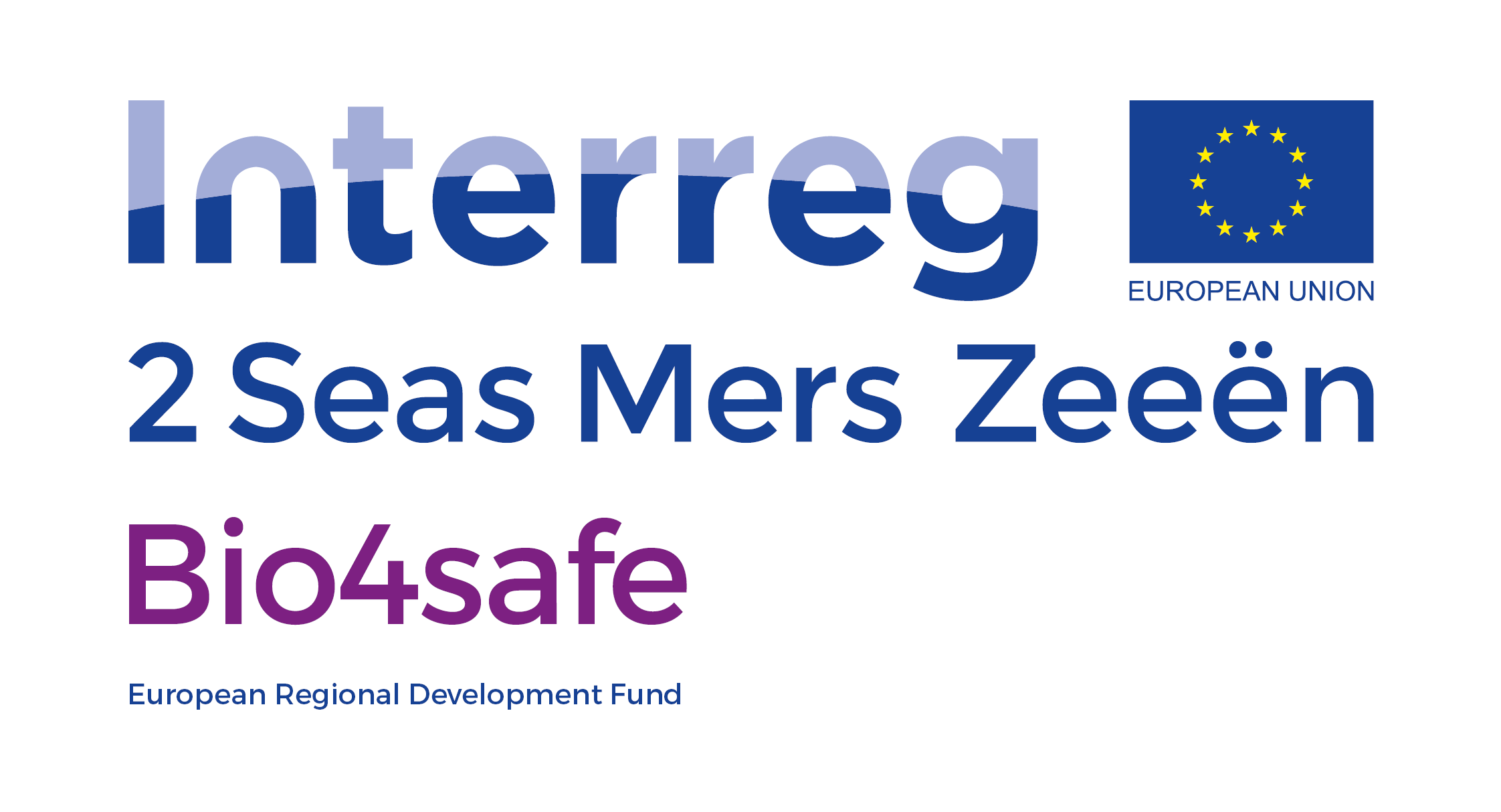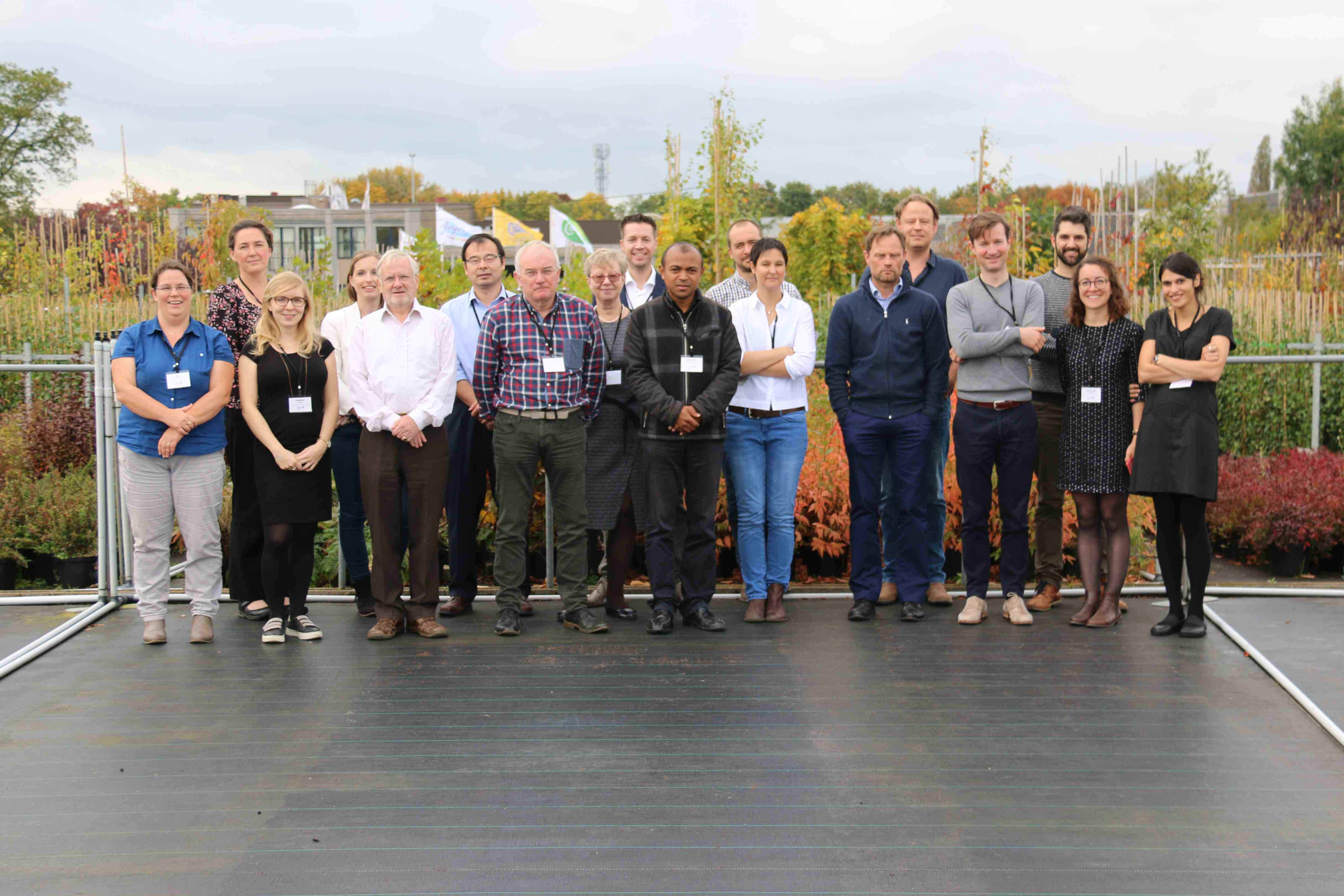 What is Bio4safe?
Project summary
Bio4Safe is a cross border project aiming to reduce water and fertilizer use in commercial horticulture using biostimulants and innovative tools. The project is supported by the Interreg 2 Seas. The 2 Seas region programme objective is to develop an innovative, research based, sustainable and inclusive 2 Seas area, where natural resources are protected and the green economy is promoted (http://www.interreg2seas.eu/en).
Common challenge
The 2 Seas region is known for its intensive horticulture which demands significant amounts of water and nutrients. Several EU directives aim to protect water quality by preventing N and P leaching, to enhance soil quality or to anticipate water shortage. Besides these legislative environmental pressures, there are economic reasons that force growers to reduce water and nutrient consumption.
Biostimulants enhance nutrient and water use efficiency of plants. Many growers do not know how to choose the most effective biostimulants or how to use monitoring tools (Survey PCS). Thus, we need a consistent approach in assessing the performance of biostimulants and we need to increase the use of biostimulants and monitoring tools.
What is a biostimulant?
In this project, biostimulants are defined as biological products that support plant growth and/or allow the plant greater interaction with the soil environment. These can include seaweed based, yeast based and mycorrhizal based products.
Overall objective
This project aims to reduce water and fertilizer use in horticulture by using biostimulants and innovative tools. This combination will result in up to 20% reduction of water and 10% of fertilizers, depending on the crop. It has a multi-stakeholder approach bringing together the expertise of all partners, ensuring a broad dissemination. Innovative sensors allow growers to monitor plant responses to reduced water supply and to adjust irrigation accordingly. Analytic tools allow users to determine water and nutrient use efficiency. This project will result in pilot data on biostimulants, generate innovative tools and demonstrate them to support growers, producers of biostimulants and suppliers of substrates & fertilizers.
Main outputs
· Feasibility study and market research for producers of seaweed and biostimulants and policy makers.
· Pilot data on different crops including fruits, ornamentals and vegetables for growers, industry, stakeholders, policy makers, NGOs and sector organisations.
· Best available (and affordable) sensor tools to measure in situ plant responses to reduced water and fertilizer gift for growers and researchers.
· A database and web app on efficient biostimulants and their effects on horticultural plants for growers, researchers and suppliers of horticultural and agricultural products.
· Protocol for policy makers on how to measure the impact of biostimulants on fertilizer and water use efficiency and how to save water and fertilizers in horticulture.
Cross-border approach
A cross-border approach for this project is necessary for the following reasons:
· to reduce the eutrophication of the North Sea, we need to reduce N and P fertilizer leaching in all countries linked to the North Sea including Belgium, France, UK and The Netherlands.
· we need a consistent approach in assessment and performance demonstration of these products to implement and disseminate the results on a larger scale.
· it will enable exchange of key information on important products among different countries
· the dissemination and communication of the entire project will reach the growers, policy makers, seed producers, substrate producers, fertilizer producers in all countries involved.
· the project partners have complementary knowledge (e.g. on the use of different biostimulants) which is required to jointly develop the best technological solution for different territorial challenges.
What is new for horticulture?
There will be open access database on the commercially available biostimulants and their effect on horticultural crops. This novel partnership will increase the adoption of biostimulants in the 2 seas region and thereby contribute to a sustainable horticulture.
Field trials will be carried out within the fruit, ornamental and vegetable sectors to test the products and the sensor tools.
The use of innovative monitoring tools is an emerging technology in horticulture. This project will collectively implement innovative tools, developed by different partners with different points of view, to decrease the use of nutrients and water.
<![if !vml]>

<![endif]>
<![if !vml]>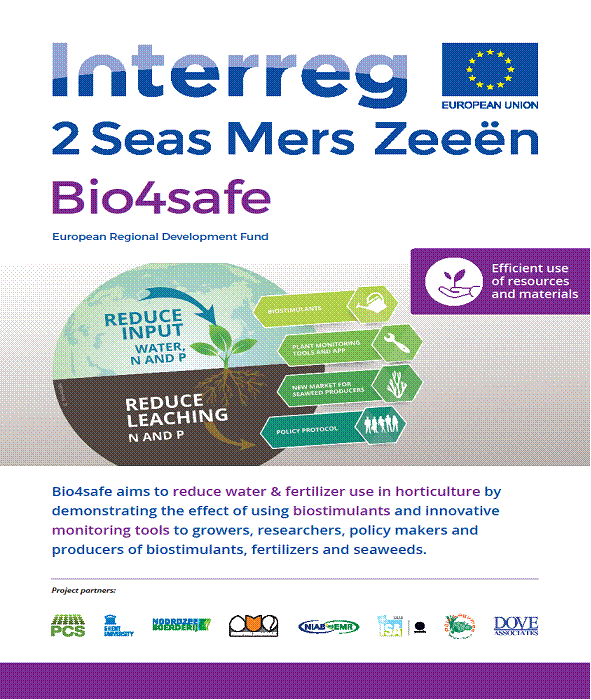 <![endif]>